MYIDEALSKIN VICHY: THE NEW PORTAL DEDICATED TO THE IDEAL SKIN
A WORLD OF PRIVILEGES IN A CLICK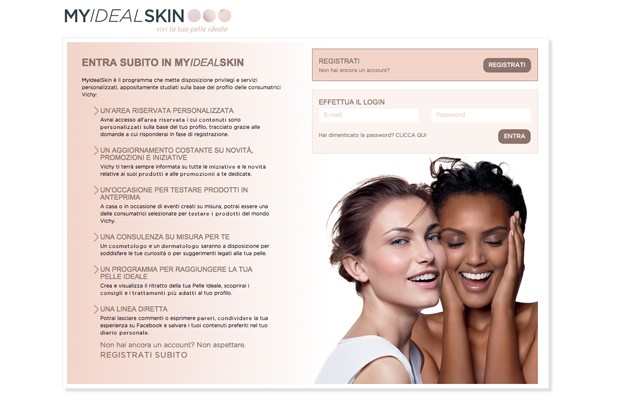 Vichy presents MyIdealSkin, the new online program that makes available to consumers privileges and exclusive services. Always on the side of women, Vichy wants to offer to all the opportunity to reach their ideal skin, regardless of age, type or color of the skin.
To accompany them in this process in an increasingly modern and bespoke, Vichy MyIdealSkin launches: a new restricted area rich in custom content.
Access it is easy, just register on the site vichy.it MyIdealSkin within the section. you start by completing the innovative diagnostic, which displays in a realistic way, directly on your photos, you want to make changes to the skin.
Wrinkles attenuated, narrow pores, oval redesigned ... not through a photo editing, but thanks to a simulation of effectiveness of Vichy products. About ModiFace technology, which took 12 years of research in collaboration with Stanford University.
After the diagnosis, you can also get personalized recommendations on your beauty routine.
But not only that!
The new platform is also a useful tool to keep you up to date on products, initiatives, innovations Vichy, as well as a space dedicated to sharing that leave comments and express their opinion.
a cosmetologist and dermatologist are on hand to answer your questions, clarify doubts and give valuable suggestions. A real tailored advice.
MyIdealSkin is, finally, a unique opportunity to test products in preview: at home or during events specially created will can be selected to test the Vichy references in the world.
have you ever thought about how it could be your ideal skin? The answer is just a click away!
Info: http://myidealskin.vichy.it
Share: