ARABIAN SUMMER AT RIAD YACOUT
AN ENCLAVE IN MILAN, WHERE EVERYTHING IS STRICTLY MOROCCAN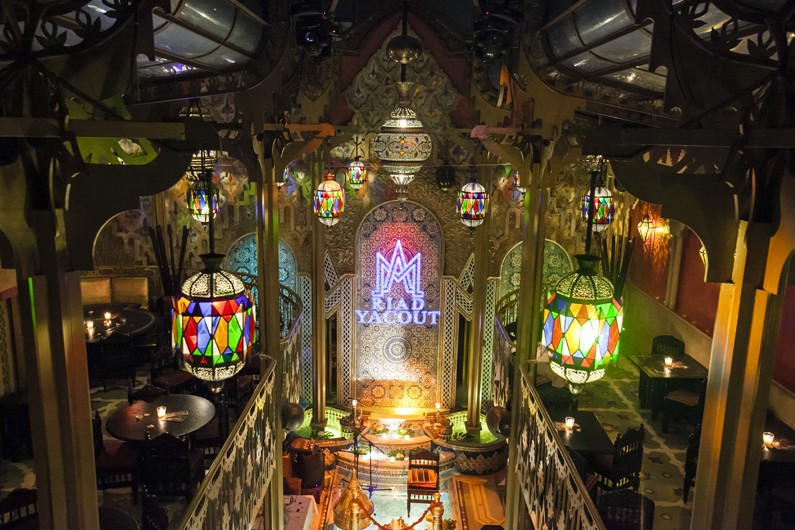 Scenic opulence. A vertigo of recalls exotic, sensational arabesques and elegant luxuries. No concession to Western minimalism: the atmosphere is imperial .. An enclave in Milan, where everything is strictly Moroccan. Opened in 2004, the space unfolds into an open space where charm, emotion, hospitality and harmony, blend with the decor warmed by gold, bronze and copper in a mosaic of sensations. An open space on three levels, tastefully furnished single pieces imported from Morocco.
On the ground floor stands a wall of water that ends in a glass plate, a stage for live music and dance fusion between the glittering mosaics. During dinner until late at night, they played every night, performers from the multi-purpose talents. The research provides a synthesis of artistic performances in the experimental field, the Eastern tradition and modern dance.
With a double ramp of stairs leads to crystalline upper floor, where there are larger private open spaces, two balconies accommodate circular tables made in soft wood carved and comfortable sofas upholstered in multicolored fabrics. From the vault hang over the entire scenario, large chandeliers from the lights and garish colors. where there is an exclusively smoking area, a real cigar club, complete with locker humidified where customers can save their own set cigars.
Riad Yacout is a travel through the traditional dishes. Hearty meals, rich aromas also strong, skillfully balanced and well combined between them. A laboratory of taste that embraces the best tradition of Mediterranean cuisine and the cuisine of Morocco, focusing on research of genuineness, authenticity and freshness of the products. Savour the food and breathe in the Moroccan culture become a unique experience. Couscous, tagines, pastilla sweet and savory pastries made with honey and almonds and mint tea are becoming the pleasure of the senses, pleasure of the spirit.
A unique ambient, technically equipped to accommodate private events and corporate events.
Info: http://www.yacout.it
Share: