RADICAL CHIC ELEVENTY
ENGLISH TRADITION MADE CONTEMPORARY FOR MEN'S FW 2018-19 COLLECTION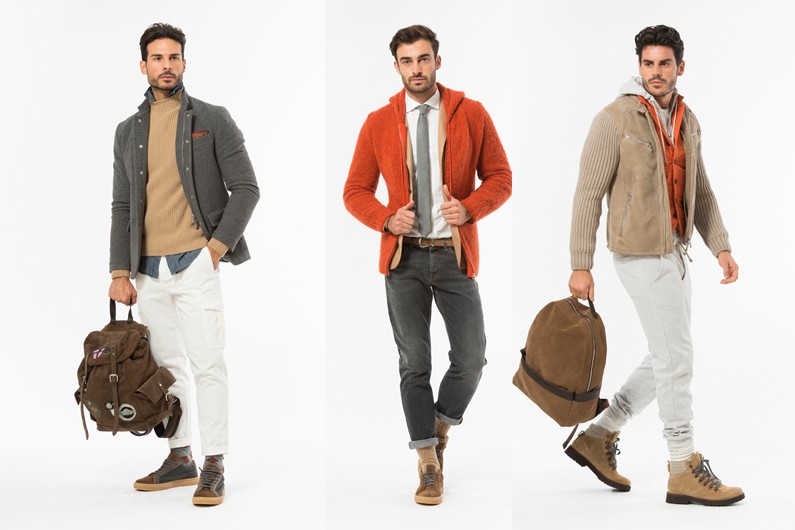 Eleventy's Men's FW 2018-19 collection is inspired by England and Scotland of the 70's and 80's. The warm hues of honey and scorched earth blend with suggestive tonalities of underbrush and elegant gardens as they encounter yarns and fabrics from historic British producers. This meeting of color and material is reinterpreted in a contemporary style by the expertise of Italian artisans.
The softest fabrics–wool and cashmere–take us back into English history, as do those with a more "raw" look–brushed Shetland wool, tweed and moleskin–which are juxtaposed to soft alpaca wool in outerwear and tailored suits.
In the search for a new formal concept for next winter, Eleventy proposes several overcoats and knitted jackets with irregularly-textured herringbone patterns, as well as suits, military-style overcoats and tracksuit paints in corduroy with wide stripes, all very British.
Each item has surprising details, such as precious shawl collars, three-dimensional hand-dyed braids, leather-plaited buttons with a vintage air, antique brass buttons in military style, and hand-sewn patches on trousers.
A line of accessories, socks and capsule underwear round off the collection.

Click here for gallery.
Info: https://www.eleventy.it
Share: