UPCOMING SUMMER SPECIAL EVENT AT DOROTHY CIRCUS GALLERY: RAFAEL SILVEIRA & FUCO UEDA
FROM THE PROJECT UNLOCK THE VISION, A DOUBLE SHOW OF INTERNATIONAL ARTISTS TO CELEBRATE THE SURREALISM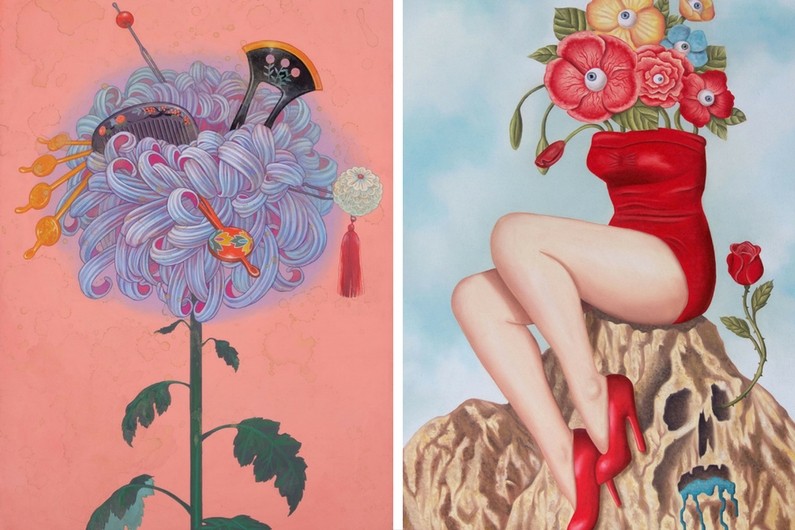 Dorothy Circus Gallery is proud to present, together with the project "Unlock the Vision", a double show of international artists: the exceptional Pop Surreal combination of the artworks by the Brazilian Rafael Silveira and by the Japanese Fuco Ueda. Their artworks will invade the splendid venue of the Hotel Butterfly, to introduce you in a world where dreams come true.
Rafael Silveira invites the spectator to leave all the daily paradigms at his back and to start walking in the artist's ironic reality: a parallel dimension with a vintage taste, where lingerie, tattoos, skulls, music and food explicitly represent the artist's stream of consciousness.
Silveira's artworks are a splendid mix of Surreal art with the Pop component: those are bizarre sceneries, unconventional landscapes populated by fantastic figures, where nude female bodies become containers of gazes, multicolored flowers recall the style of botanical flowers of the XVIII century and the pelicans with their lamp-head give shape to male profiles.
Fuco Ueda's imaginary works are valued in the same way, and they show similar mysterious compositions that allow different levels of interpretation.
Her paintings disclose vibrant colors contrasting each other by creating the effect of a photo negative: they connote a "floating world", a surreal vision where you can find yourself completely submerged by images and figures that go beyond your rationality.
Poetic elements of Fuco's paintings, such as the marine fauna or flowers assume gaudy nuances, while, delicate female figures inspired by manga, float in lavender skies emerging from the fog or from evocative sea bottoms. Fuco Ueda narrates through a unique and recognizable style, depicting a world whose nature faces a forced metamorphosis and where doubt endures: there is a constant swing between the earth, where the morning air tastes like cherry-trees, or a world devoid of gravity, where lightness and freedom from every material limit dominate.
Info: http://www.dorothycircusgallery.it
Share: